Outcomes Star for homelessness gets a radical overhaul
Over the 20 years since we first started working on an outcomes tool for homelessness, a huge amount has changed in the sector. In response, we've undertaken a major review of the Outcomes Star. The resulting Home Star is now published – and it's a truly person-centred Star for homeless people.
The Outcomes Star, commonly known as the Homelessness Star, was Triangle's first ever outcomes tool. At its heart from the beginning were the principles of empowerment and collaboration that have informed Triangle's work ever since. And its structure, with the simple yet engaging Star shape underpinned by a five-stage Journey of Change, has become the basis of the whole constellation of Stars that followed it.
Appropriately enough for a tool with collaboration at its heart, it came about through an initial collaboration with St Mungo's back in 2002. We worked with St Mungo's to design an outcomes tool, then developed it in collaboration with the London Housing Foundation and other homelessness charities to publish the Homelessness Star in 2006. It has been a resounding success and is widely used within the sector.
But with close to 50 Stars now published and more than 60 research studies supporting the Star's validity, we've learned a lot since that first Star. We've come to know what resonates with service users, how to ensure that the stages in the Journey of Change are absolutely clear, and how to make sure each Star is measuring the things that really matter. It was time to put that learning back into the Homelessness Star.
"This version is much better. It's much more user friendly, much more accurate, the terms are much more identifiable for end users. I think it's a massive improvement. You've really addressed it, it's bang up to date, the language is particularly good. Especially changes in safety and crime, and 'Trust and hope', is far better than 'motivation'. Our keyworkers feel it does address all the issues."
"A person experiencing homelessness feels like they have an insurmountable knot to untangle. The Home Star helps untangle the knot of issues. The issues can be itemised and separated out, allowing the person to concentrate on each area and go on to see and feel the changes in their lives as a result".
We had updated the Homelessness Star in 2017, but increasingly felt that it needed a more radical overhaul. As a social enterprise, Triangle invests part of the licence fee for Stars in keeping them under review and up to date – and we wanted to make a big investment in our first Star. So in April 2020 we formally kicked the process off with a Round Table of users of the Homelessness Star (see the Reviewing the Star box below).
Three main things drove the rethink. First and foremost, the language needed changing. Our more recent Stars are even more trauma-informed as we have learnt how to word them to avoid triggers or any suggestion of blame – so we wanted to bring that learning into what would be the new Home Star. And while the original Homelessness Star was also person-centred, the thinking on that has moved on and there was more that could be done to eliminate jargon, focus on the service user's real concerns and put them right at the centre.
Secondly, the sector itself has changed rapidly over recent years. When we first wrote the Homelessness Star, the main clients were single homeless men. Today far more women and families are accessing services, and people often have significantly more complex needs. And with increasing pressures on funding, many homelessness services are offering shorter-term interventions.
Thirdly, the external environment for people experiencing or at risk of homelessness has got tougher. There's less social housing, the cost of living is sky high, and access to work has become even tougher. It was important to reflect all that more explicitly in the new edition of the Star.
"We're really proud of the new Home Star," says Triangle director Sara Burns. "It was our first flagship Star, and we wanted to make it as good and relevant and accessible as it could possibly be. So we're delighted at the way it's being received. We've had feedback that it's 'bang up to date', with the language being particularly good. And perhaps most importantly, it's person-centred to its very core."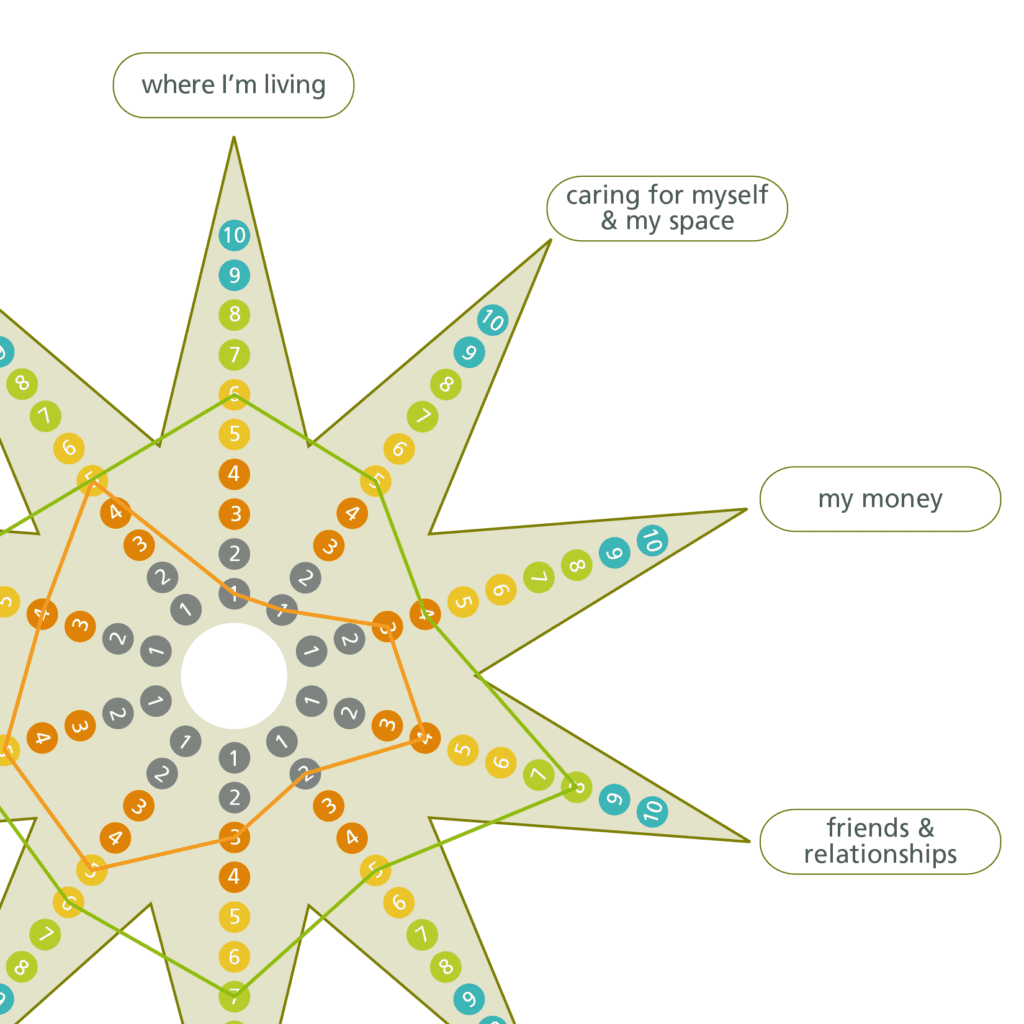 At a glance: what's changed in the Home Star 

There's trauma-informed language throughout – for example: "You don't have the help you need or are not ready to engage with it. Perhaps it doesn't work for you or it's hard to trust it".
The Star works for women and families and for people with complex needs.
There are explicit references to external factors that are beyond the control of the service and of the service user.
The former "Motivation and responsibility" area has become "Trust and hope" and is completely different.
The old "Offending" area has been reworked as "Safety and crime", focusing much more on homeless people being victims of crime.
The "Alcohol and drugs" area now recognises that drinking or taking drugs can be a coping strategy.
The "Meaningful use of time" scale has become "How I spend my time" and focuses more on what is meaningful for the service user.
There are more accessible materials, including Flashcards for people with limited English or who struggle with forms.
Reviewing the Star: the process

Gathering feedback
– Continuous input over many years through our trainers and implementing leads
– Meeting with MEAM and others
– Workshop organised by Brighton Women's Centre
– Round Table in April 2020
– Wide call for feedback

Testing successive drafts
– Drafts sent for feedback in April and Nov 2021
– Workshop with Psychologically Informed Environments (PIE) in Dec 2021
– Final version Jan 2022
– Launch webinar Mar 2022
– New Star available April 2022
A major collaboration: organisations contributing to the review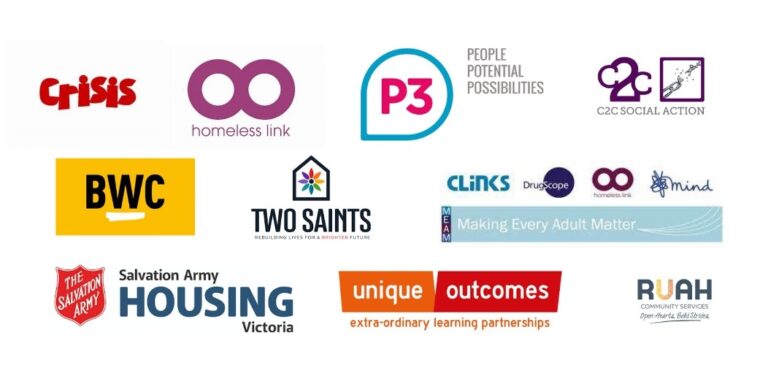 How to start with the new Star
For new Star users, the process is simple – get in touch with Triangle (details below), get a licence and some training and you can start using the Home Star straightaway.
For organisations already using the Homelessness Star, switching is free for all licence holders, and there's guidance on the Triangle website on how to do it with minimum disruption. There's also support for licensed trainers. However it's important to realise that the new Home Star is significantly different from the Star it replaces. The data won't match (for example, the "Trust and hope" area is entirely different from the old "Motivation and responsibility", so there needs to be a period of adjustment.
"There will be an interruption in the continuity of detailed data when switching over, and you will need to update your internal policy and other documentation mentioning the Star," says Sara Burns. "But we're confident that the effort of switching is well worth it."