New resources meet dual face-to-face and virtual training needs
The Covid-19 pandemic propelled organisations delivering training to shift training delivery online immediately. In the early days, it was a hectic scramble to make the most of technology for teaching and to produce virtual training resources quickly.
Two years on, we are delighted to announce the launch of our new eighth-edition Outcomes Star Core Star training course with improved exercises and a training manual suitable for use in both face-to-face and virtual learning settings.
After creating a new set of training resources for the virtual training environment we quickly developed a vision to combine the two and used the opportunity to update and revise the Core Star training resources.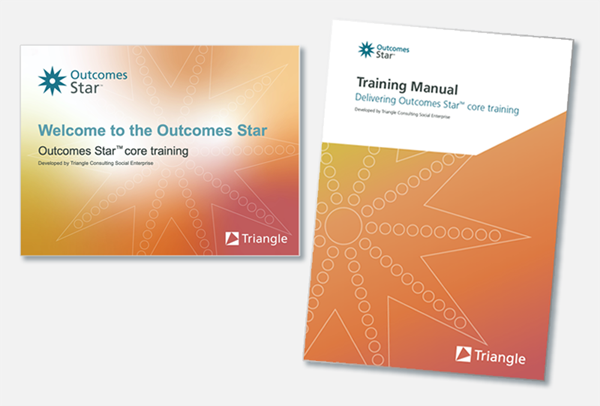 We can now provide learners with the same high-quality, engaging, and consistent training experience in both environments and trainers with a single source of resources.
How we created the resources
In the summer of 2021, to start this initiative and achieve our aims, we brought together our in-house training team, associate trainers, and licensed training community to harness our collective knowledge about training in the Stars.
Over 18 months, we carried out 1-2-1 interviews, focus groups, and workshops with our community of trainers to completely revise and update the resources.  
Key members of our in-house training team upskilled and undertook industry-leading LPI online training course designer and facilitation qualifications to meet the challenges of achieving the same high level of engagement virtually as in the classroom.
We drew on best practices for successful virtual learning and incorporated the latest thinking on trauma-informed language and accessibility needs. We also infused our thought leadership views on into the new resources.
Kate Hamill, Training Manager of Triangle, said:
"I am excited to be able to offer this new training package for the benefit of our learners and to support our community of Licensed Trainers to deliver great training in their organisations.  We have all learnt so much, and I feel that the package has really benefited from our new skills and experience.   I want to thank everyone involved in its development, particularly Laura Baker, who led the project – the training specialists, our implementation team and licensed trainers, designers, associates and other partners".
Read more about how we developed our virtual training package.
How we evaluated the resources
With the needs of our learners and their managers at the heart of our work, we considered what they needed to know to enable them to use and implement the Star well within their service. We tested new resources with our in-house training and implementation teams and our associate training professionals, all experts on the Outcomes Star.
We collected, organised, and modified the information and delivery methods. We then tested the new resources with new learners to see what worked and didn't, ensuring they were equally effective in both learning environments.
What's new?
The first thing Licensed Trainers (LTs) will notice is how different they look visually. The second thing LTs will notice is the increased number of slides. We can reassure LTs by saying more information is displayed visually to make it easier for learners and accommodate different learning styles.
We've also introduced new graphics, icons, multimedia, and links to support and embed learning. We have included a new trauma-informed practice session, visuals of the different Journeys of Change, and the materials learners need to use in practice.
There is a greater emphasis on pre-and post-session objectives and new engaging activities to reinforce learning in each session. The slide deck and training manual are also coloured-coded to match each other. 
New course structure
Now delivered in two half days or one full day
Reduced sessions from 5 to 4
Greater emphasis on pre-and post-session objectives
New learning methods and terminology
New graphics, icons, multimedia, and links
Sarah Brimelow, Associate Trainer for Triangle, views on the new resources:
Mick Caroll, Associate Triangle Trainer said:
"I was part of the St Mungo's team that first worked with Triangle Consulting to develop the Outcomes Star in 2003. I have used it in many other organisations in the years since. Seeing its growth and development in that time has been inspiring.
These new training support materials are the culmination of that: clear and simple, and very powerful. They contain the distilled knowledge and insights of frontline social care, academic and policy practitioners, as well as seasoned trainers. And it shows.
Triangle used pencils and rulers to draw the first stars and Windows 3.1 for the slides. These materials result from a constant reinvestment of passion for human development. They put 21st-century tools in the hands of trainers for learners to inherit all that brilliance for the people they support. I'm very proud to have been there at the start and to have been able to witness this wonderful process".
How can I access the latest resources?
Training package [PowerPoint slide deck & training manual] will be available from Star Online from March 2023 
Triangle will send hard copies of the new Training Manual to all LTs after they have attended a CPD session.
When can I start using the new resources?
We are holding several launch events to introduce the new Star Core package and training manual over the next six months, you only need to attend one of these.
LTs will be able to start using the new resources after this training.
Licenced Trainers (not Aus/NZ) will receive an email listing all the upcoming launch events and CPD sessions with registration links. We look forward to you joining us!
*****
Further information
If you would like further information about Outcomes Star training or becoming a licensed trainer, please email us at info@triangleconsulting.co.uk
Stay updated
You can subscribe to our newsletter to receive updates directly to your inbox, so there is no need to keep checking for new blogs.
Related items: