I am Marie Buss, I support Triangles clients who are typically Local Authorities, NHS organisations, and charities, to use the Outcomes Stars well within their services across the South East of England.
I am also an ex-Probation Officer, so I was delighted to recently attend the #SheMatters conference on Oct 21st, 2022 as I wanted to hear about the current challenges the sector faces today and learn about the range of successful initiatives supporting women in Prison and the community.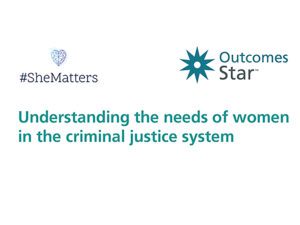 The #SheMatters conference, organised by Imago Dei Prison Ministry, brought together a variety of front-line organisations working with women in prisons across the Southeast to talk about their work, and hear from many women who spoke about their 'lived experiences' of the UK's criminal justice system. The conference celebrated the valuable work of front-line services and was an excellent opportunity for delegates to connect, network, learn from each other, and share experiences.
Here at Triangle, many of our service provider clients deliver support services to women and men in the criminal justice sector using a range of Outcomes Stars. Unsurprisingly, several speakers' views chimed with our mission and values. They spoke with a real passion for women to receive trauma-informed care, about the importance of collaboration and transparency, and highlighted the importance of enabling help by giving women a voice and some control over how their sentences are delivered.
Abi Gardner, the Deputy Governor for HMP Send, spoke about the women's journey in the criminal justice system much like we talk about the Journey of Change. Abi's commitment to offering a range of interventions within the prison system and the recognition that every woman is an individual requiring a tailored sentence plan was inspiring. Abi spoke about the importance of delivering support to women at their own pace, based on their unique priorities and needs. She highlighted the need for women in Prison to feel connected, gain peer support and receive support from different agencies, and feel a sense of community and togetherness to create change. Abi also highlighted how critical physical activity is to human well-being. Particularly women (and men) in confinement.
When we develop Outcomes Stars with collaborators and the people on the receiving end of the support, having supportive networks, supportive relationships, a sense of community, and exercise is always vital for well-being. All these areas are conversation topics between the person receiving the support the support worker when using the Outcomes Star. 
When I completed Outcomes Stars with people on probation some years ago, I found that the Star enables better conversations about a person's life and creates a shared viewpoint of where they were at, which led to better action planning, and ultimately more sustainable results. Abi echoed this approach as being the prison's aspiration, Send Prison try to meet the women 'where they are at', while also mentioning the difficulty of developing creative solutions due to the restrictions within the CJS. Even so, I was grateful to hear Send Prison is taking steps to develop innovative solutions for women.
At Triangle, we often talk about the importance of enabling and empowering people by being person-centered, strengths-based, and using trauma-informed language. However, in the CJS field, several dependencies impact what prisons can achieve. The regular changes in Government strategy, change in Criminal Justice Ministers, priorities and funding streams changing so frequently often means plans aren't seen through, meaning less focussed attention on what matters. As if to highlight this point, just twenty-four hours before Abi spoke at the conference, we saw the resignation of yet another UK Prime Minister. 
What does matter? Funding, staff recruitment, attainment of staff, and better sentencing solutions than we currently have.
Speakers from Kent probation spoke about how the sentencing delivered to women often sets them up to fail. In response, they have developed an innovative women's project.
As an alternative to women attending a meeting in a Probation office which can often be triggering. Women were instead invited to a safe space, with their children, to meet other women, whilst getting support from the third sector, engaging in a range of holistic activities, and receiving relevant advice on a weekly basis. This project is achieving better results for women and their children experiencing the UK's CJS.
I found this project an excellent example of innovative service delivery, developed after reflecting on the support they offered and identifying what does and doesn't work. Triangle actively encourages and supports clients to use their Star data to highlight gaps or needs in service provision and provide Star data analysis support upon request.
My day at the conference ended with an unexpected encounter with a client, Advance Minerva, who use the Justice Star. They are funded to deliver the Commissioned Rehabilitation Service Provision (CRS) for women in Kent. They discussed how men built the (CJS) system for men and that female specialist services are sorely needed. We conversed about the need for gender-specific services and tools, which left me with plenty of thoughts to take back to our development team.