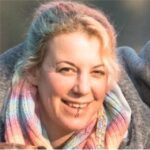 Implementation Lead Helen Bacon reflects on her experiences to date, and how her career path has led her to Triangle.
I vowed I would one day work for Triangle since I first discovered the Outcomes Star in 2009. I'd rooted this milestone on my career path while working for a consortium and helping the voluntary sector prepare for the NHS Personalisation Agenda. The Outcomes Star was the answer to our question "How do we evidence change and demonstrate we are working in a person-centered way?"
It has taken me 12 years to get here, and after 12 weeks it felt like home!  The team is exactly as I imagined they would be – knowledgeable, passionate, and generous with their time in supporting frontline staff using the Outcomes Stars, as well as each other, helping me feel included early on. 
My path to Triangle has provided me with a wealth of knowledge across criminal justice, social care and community mental health to bring to this brilliant team, and an understanding of how to implement the Outcomes Star from the experiences I've had along the way.
My path to Triangle
In the 90s my forward-thinking secondary school trained us young volunteers to set up our own bully-line listening service, which helped develop my empathy skills.  A solicitor once excused me from lessons post work-experience because I engaged well with a victim of domestic abuse; I gained resilience from supporting her through the traumatic court case. At 17 I was given permission for work experience in a unit for people with long and enduring mental health issues; this experience shaped my view of the world. I learned early on that life is complicated and the way to help someone depends as much on the person rather than the perceived problem.
Working in an approved premises at 20 taught me clear boundaries, compassion and fairness keep you safe.  After the first 6 people I supported left in a police car, I realised there was no place for my ego – to succeed in adversity you need self-efficacy.  My (incredible) manager at the time explained "If you have done your job well don't expect thanks.  You have empowered someone to know that it's their choice, their life, and their achievement.  That is your reward, watching them leave believing in themselves". 
I set up a mentoring service to help steer people away from offending.  The partnership between mentees and volunteer mentors changed lives.  A diversity of mentors from bankers, vets, refugees and ex-offenders provided a commonality – they were themselves.  They gave their time freely, showing genuine positive regard to listen to someone's life story.   If only I had the Outcomes Star then, I could have shown it more tangibly.
It was when I delivered cognitive behaviour group work programmes I really understood the value of motivational interviewing as a practice.  This is where my passion for the cycle of change ignited and how important it was to match the intervention to where someone was on their Journey of Change.
Over the last decade I have worked in the voluntary sector, in service user engagement and quality assurance across a variety of services in regulated and unregulated environments. Implementing Outcomes Stars across such a range of settings and client groups has enabled me to gauge collaboration and interpret the findings with teams, using that information to identify and address gaps in service delivery.  It has also helped me to understand when the Outcomes Stars are not the right tools for a service.  
Using Outcomes stars throughout my career has enabled me to hear the client's voice in their own support, providing opportunities for workers to build the inner wealth of their service users by positive affirmation of distance travelled.
A terminally ill patient once told me "Work is part of your life, not your whole life.  Make it worthwhile and get the balance right".  With this ringing in my ears, I know this is exactly where I want to be –using my experience to support organisations to implement Outcomes Stars well. I'm building relationships to understand what organisations are passionate about and what they want to achieve from implementing the Outcomes Stars. 
I feel very privileged to work for Triangle now, where the ethos resonates precisely with my core values.   
*****
Helen Bacon is
For more information on Triangle, our mission, vision and the people who help to make the Outcomes Star please visit our About Triangle section.