Using the Star remotely
We understand that services are experiencing an unprecedented number of changes as a result of the recent pandemic, and we are doing all we can to support organisations and their keyworkers and service users.  We now offer remote training and guidance for using the Star remotely, via phone, or using other technology.

In 2019, a pilot study in Australia concluded that it is possible to effectively complete the Outcomes Star by telephone. As a result we have developed guidance in using the Star with services users via telephone.  Our guidance should enable organisations to get the most from using the Star if they support people by phone. Much of the good practice is identical to when completing the Star in person. If you are interested in using the Star within other frameworks please visit our pages on implementation and resources for implementing the Star.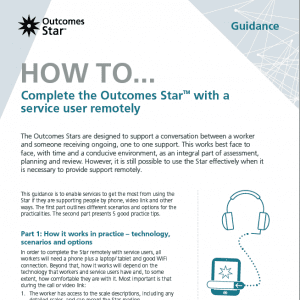 Remote Core Star training
We can now offer Outcomes Star training remotely, using a video platform. For more information, please contact us.
Remote training works best with a maximum of 8 workers and managers
This assumes all participants are in different locations e.g. working from home
We provide all Star materials and the course handbook by email
Participants connect by video link to our trainer(s) – we use Zoom but can discuss other options
The training is a full day, with more frequent breaks. We can also deliver as two half days