On 14th November 2017, we marked over 10 years since the publication of the original Outcomes Star for homelessness with a free information and learning event in London, UK.
Over 100 people came together on a Tuesday morning, including new faces and people who have been instrumental to the success of the Star s0 far.  The purpose of the day was to share what Triangle have learnt from over a decade supporting frontline services to prove and improve outcomes, and to hear from people's own learnings and experiences of the Outcomes Star – watch our short video of the morning in action:
First up, our directors, Sara and Joy, presented their thoughts and learnings, looking back to 2002 and the beginnings of the Outcomes Star, and looking ahead to what the future may hold for outcomes, impact and the Outcomes Star.  See the presentation from Joy and Sara, creators of the Outcomes Star and directors of Triangle, here.
To mark over 10 years of the Outcomes Star, we've pulled together some interesting facts and figures, showing the scale of Star use across the UK: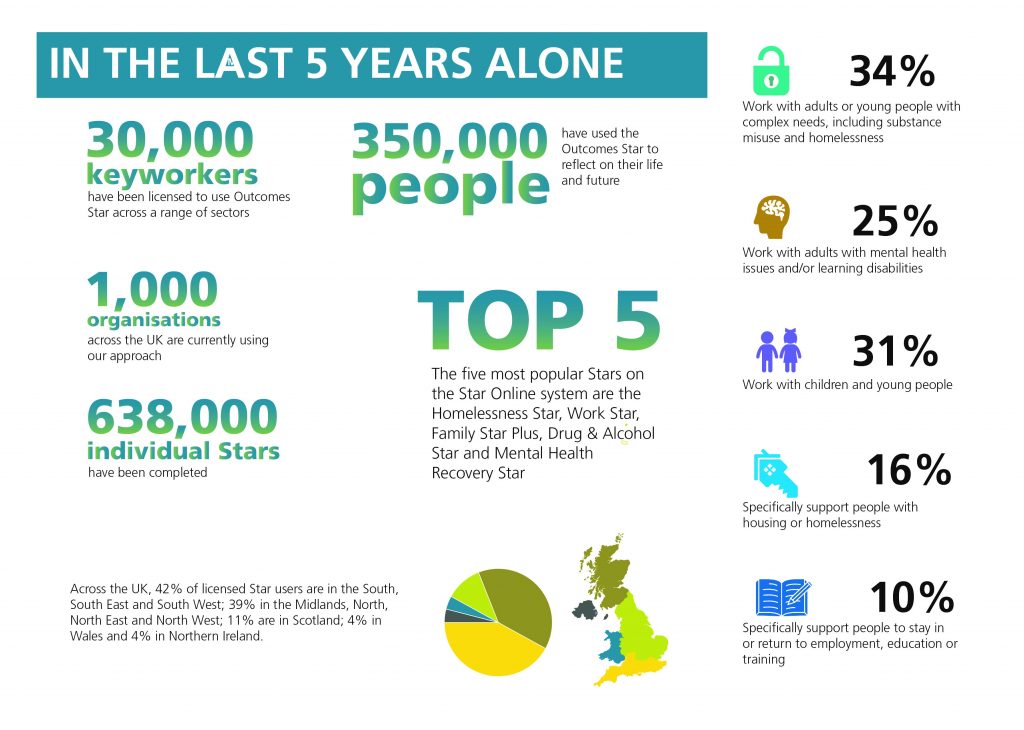 Later that morning, we heard from two representatives of organisations using the Outcomes Star in their day-to-day practice.  Claire Richardson, commissioner with the West Mercia Police and Crime Commissioner team, told us how they had worked closely with service providers to help them get the most out of the Star.  Mick Carroll, Head of Coaching at Restore, an Oxford-based mental health charity, took us through the 7 things, if you really want to implement the Star as badly and ineffectively as possible, that you absolutely must do!  You can hear both Claire and Mick, as well as Paul Richards, a Support Worker and Licensed Star Trainer from St Basils, a charity supporting young homeless people or young people at risk of homelessness in the West Midlands, tell us a bit more about their use of the Star in our short videos, here.
Lastly, before lunch, attendees were invited to join one of ten discussion tables, each focusing on different aspects of the Outcomes Star – from the Star Online web app, to action planning with the Star, sharing the Star with commissioners and specific Stars, such as the Tenancy Star and Young Person's Star.  Feedback from the day was really positive about this format, so we're hoping to run some more information sessions in this style in the New Year across the UK, and maybe even beyond!
Thank you to all that attended the event!  For more information about our 10 year anniversary, read our article here. If you are interested in attending an information event in the future, or have any questions about any aspect of the Outcomes Star, please contact Triangle.