When we launched the new and improved Outcomes Star Online platform in 2020, we were aware that what we were launching was a Minimum Viable Product.
We knew it was only the start of where we could use digital technology to help people get the most out of the Outcomes Star.
Following a year of migrating over 1000 organisations from the old platform to the new, we've been constantly moving forward with the platform, working closely with our technology partners QES, including:
Filling in gaps that we weren't able to get to in the initial development (eg action plan PDF downloads)
Introducing features to support better management of data (eg configurable practitioner permissions and restricted access to records, and depersonalisation of dormant records)
Ensuring a strong foundation of compliance for information governance, cyber security and clinical safety (eg new IG statements for UK and Australia, and bringing in a Clinical Safety Officer to set up our Clinical Risk Management System).
We've also been working on 2 big projects – integration, and an overhaul of the 'Live Completion' feature. Here's an update on those projects and some of the things we've learnt along the way.
Integration
We are clear that the role of Outcomes Star Online is not to be a fully customisable, comprehensive case management system or electronic patient record system.  Although for some organisations it may be their central record system, our focus is purely on the Outcomes Star and supporting best practice use across our client organisations.
We have also learnt the hard way that although on the surface it seems simple to allow organisations to build their own digital versions of Stars, and in some cases works well, often it is very difficult to achieve a user experience that matches up to best practice and supports the values underpinning the Star.
Therefore, we knew when launching the new platform that we absolutely had to offer integration with other systems – but at the time, we didn't really know how to do that. We didn't know what kind of integration people wanted, or what technology the other systems needed to be 'talked to', or where to draw the lines around what should happen within Outcomes Star Online and what we should support in other systems.   With over 1000 organisations using all sorts of software and managing that software in different ways, we had to decide where to start – with something that delivered a lot for one setting, or something that delivered something basic but for as many different circumstances as possible.
Following a period of research, design and development, we were delighted to launch our Partner API and our Integration Pilot in April 2023, delivering a 'Phase 1' of universally useful endpoints designed to reduce duplication of data entry for practitioners and support a 'single point of truth' in primary systems.
We're in the early stages of working with around 10 different organisations in the Integration Pilot so far and looking forward to having some case studies to share soon. To find out more information about that have a look at our Integration page here.
"Live Completion" overhaul
Alongside the more technical side of the API development, we also knew we wanted to continue to improve the user experience around completing Stars.
For the last year we've been doing some exciting user research and design with Usertopia to look at the 'Live Star Completion' feature the pages designed to be shared with someone being supported to complete a Star collaboratively without paper.  Here you can see an image of one of our potential alternative designs in action.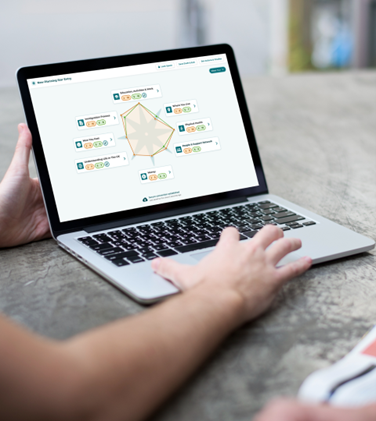 With a focus on accessibility, as well as on supporting best Star practice, we've uncovered some useful learnings, including:
Lack of wifi when out and about prevents people from using the feature, so an offline solution would be valuable
The lack of imagery and the volume of text on the screen all in one go makes it harder to digest
Rather than just completing a Star, people would like to be able to complete action plans collaboratively and look back over completed Stars to show the visual of change over time
We're just starting to move from design into development, working closely with Usertopia and QES and planning to collaborate with our research community of Outcomes Star Online practitioners to test out our plans as we go. If you're interested in finding out more or helping us with this important development, sign up here.
Onwards and upwards
As well as the big projects above we're committed to continually improving the user experience and technology of Outcomes Star Online.  If you have any feedback or requests, or any questions or issues with the platform, please contact us on support@staronline.org.uk.