In the increasingly competitive world of carer services, commissioners want robust outcomes data. For the Carers Trust, measuring outcomes has become crucial in its mission to improve support for unpaid carers – and the Carers Star is helping provide the evidence it needs.
Since the Care Act of 2014, local authority commissioners have had to assess carers and provide support where needed. This has given rise to bigger, multiple contracts for services helping carers – and a corresponding demand from commissioners for good outcomes measurement.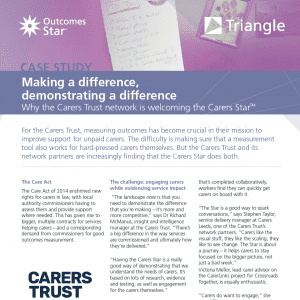 "The landscape now is that you need to demonstrate the difference that you're making – it's more and more competitive," says Dr Richard McManus, insight and intelligence manager at the Carers Trust. "There's a big difference in the way services are commissioned and ultimately how they're delivered."
The Carers Trust has a large network of partners, all operating in slightly different ways, so collecting and analysing robust outcomes data across the network is crucial. "The Carers Star is widely used throughout the network," says Richard. "It's a really useful tool, based on lots of research, evidence and testing, as well as engagement with the carers themselves."
With nearly a third of the Carers Trust's network partners now using the Star, Richard McManus is able to see the individual impact of particular services, but also to gather data on the collective impact across the network. It's proving invaluable in securing bigger contracts, which the Trust bids for jointly with one or more network partners.
"Having the Carers Star is a really good way of demonstrating that we understand the needs of carers," says Richard. "More generic charities might have less robust reporting and measurement in place. But with the Star we can show we have specialist knowledge and real expertise – and also for particular groups, like young carers, carers for people with dementia, or carers who also work."
The Carers Trust is seeing benefits right across the network. "The network partners that use the Star really value it," says Richard McManus. "It helps them with improving their services and transforming the way they deliver those services, based on real evidence and feedback from carers."
"And of course, because of its robust design and methodology, it's highly appealing to commissioners."
For more detail about how the Star works both as a measuring tool and for carers themselves, have a look at the case study. Related blog: we also published a related blog; Carers Star makes collaboration count.

*****
The Carers Star is available to all organisations with a Star licence, and full training can be given for workers and managers. For more information on the Carers Star, please contact us on info@triangleconsulting.co.uk or +44 (0) 207 272 8765.