About the Star Online
Introducing our new and improved online system for the Outcomes Star™
www.staronline.org.uk is the digital home of the Outcomes Stars, supporting organisations to use the Stars in proving and improving the outcomes achieved with the people they support.
The Star Online is a web application that allows you to access Outcomes Star resources and guidance, record Star data and service user information, and report on outcomes.
It has been designed for frontline services – practitioners, managers and funders – using any version or versions of the Outcome Stars™ to support and measure change when working with people.
The new version of the Star Online launched at the beginning of December 2019. If you were already using the Star Online before December 2019, find out more information about what's changed at the bottom of this page.
Watch a short video of the Star Online in action
Key features of the Star Online
Download a briefing with more information about the Star Online here.
Easy to set up and get started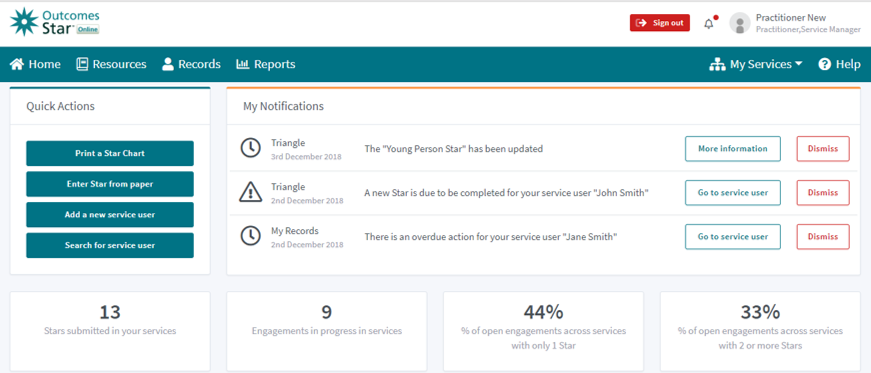 Browser-based with no software to download
User friendly design that is intuitive to use with no specific training required
Support from a dedicated helpdesk
Simple to set up your account yourself, including creating logins for your team
Accessible pricing
Helps you to implement the Outcomes Star effectively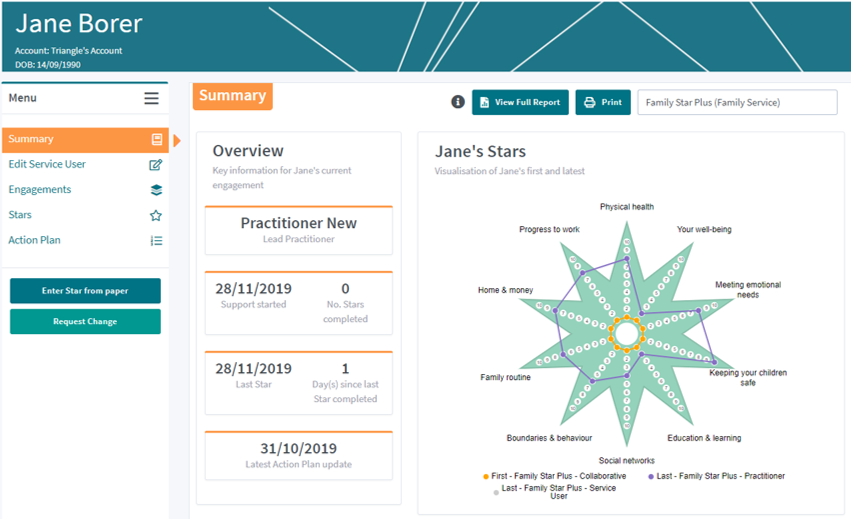 Access to official Star resources stamped with your licensing information
Comprehensive Help Centre covering all aspects of using the system, using the Stars and more
Ability to enter Star data, notes and action plans quickly, and upload copies of paper Star Charts
Ability to configure and receive reminders for overdue Stars and actions
Engaging interface for live completion on-screen with service users in real-time (available from March 2020)
Analyse and present your outcomes data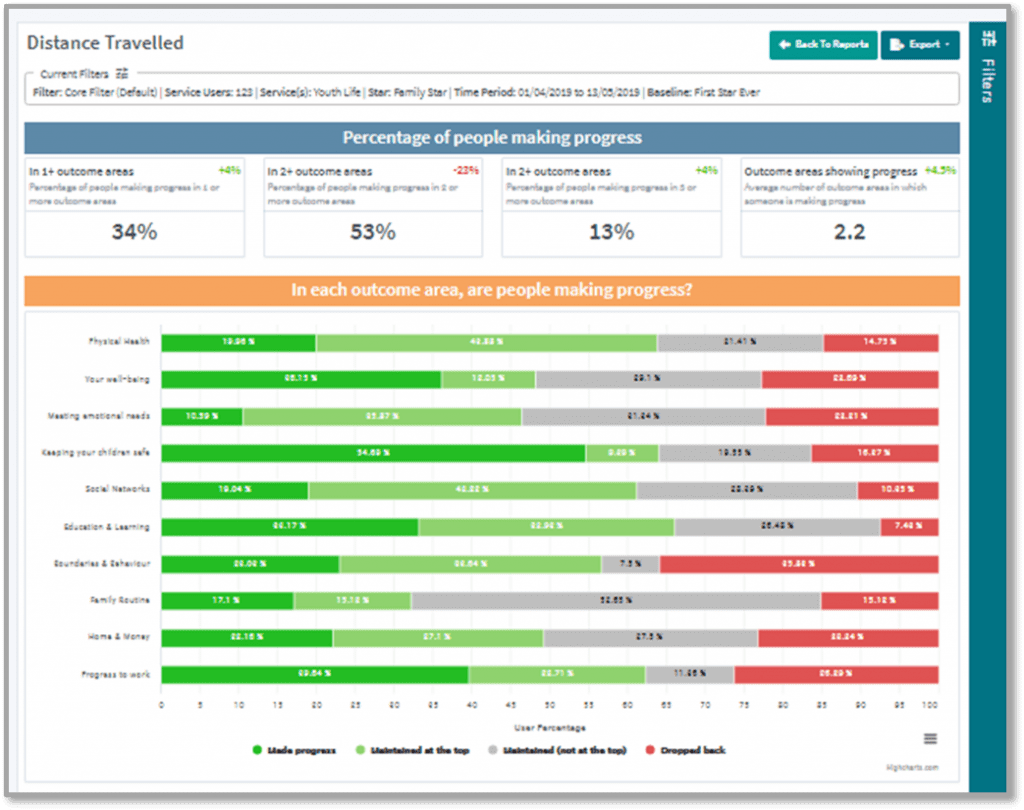 Ready-made reports and charts, with a wide choice of filters to organise your data
Download reports as PDF, JPEGs, Excel
Easily create engaging distance-travelled charts, configured to your own filters including custom time periods
Secure, robust technology
Optimised for desktop, mobile and tablets
Robust GDPR compliant data security, with personal information protected through two-factor authentication at log in
Easy to manage service, manager and practitioner permissions with configurable options to control the data users can see
For costs, terms of use or to buy licences to use the Star Online, please see our Terms and Prices page.
Already using the Star Online?
If you started using the Star Online before December 2019, you will be using the legacy system.
Log into the legacy system by going to the legacy log in page.
The legacy system will continue to be available until the end of August 2020. Your account will be upgraded to the new system between January and August 2020.
For more information about what has changed in the new system, download our poster for practitioners here.
For more information on when your account will upgrade, contact the Star Lead in your organisation.
If you have any questions about the new system as an existing user, please contact Triangle on info@triangleconsulting.co.uk.
.