Start using the Home Star™

Dear In-Form user,
Triangle have launched a NEW Outcomes Star for housing and other needs – the Home Star.
What does it mean for me?
Free Home Star licences until April 2025 for In-Form users.
Discounted Home Star training from £49pp.
Training available from May 2022.
What do I need to do?
Step 1. Register your interest in free Home Star licence(s) for your organisation.
Step 2. Triangle will contact you and schedule training (if required).
Step 3. Complete training (if required) & receive your free licence(s) to use the Home Star until April 2025.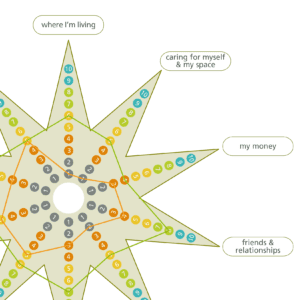 "It's bang up-to-date, the language is particularly good".
We listened to many users – and sought feedback.
We kept abreast of changes in the sector.
We keep learning, including about trauma-informed practice.
More trauma-informed and client-centred language.
Changes to scales

that had previously raised issues.

A dual endpoint for people who need ongoing support.
Works better for women, families and people with complex needs.
The Home Star will be activated for you on In-Form after your organisation has registered for your free licenses and users have completed the discounted Home Star training (if required). 
For organisations with large numbers of people to train, the train-the-trainer route may provide a more cost-effective solution.  After registering for your free licence, Triangle will discuss the most appropriate option for you.